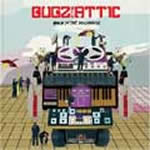 UK Release Date:
24 July 2006
Track Listing:
1. Intro
2. Move Aside
3. I'm Gonna Letcha
4. No More
5. Once Twice
6. Redhanded
7. Doghouse (Interlude)
8. Knocks Me Off My Feet
9. Consequences
10. It Don't Work Like That
11. Sounds Like
12. Happy Days
13. Don't Stop The Music
14. Inna Row
15. Worla Hurt
16. Booty La La

•• Bugz In The Attic - Back In The Doghouse (V2)
•• Published: musicOMH, July 2006
•• Original article: http://www.musicomh.com/albums/bugz-in-the-attic_0706.htm
Bugz In The Attic are a West London collective who formed ten years ago, so it is pretty staggering that Back In The Doghouse is their debut album. Not that they have been resting on their laurels, the group's core octet of Orin 'Afronaught' Walters, Paul 'Seiji' Dolby, Kaidi Tatham, Daz-I-Kue, Alex Phountzi, Cliff Scott, Mark Force and Matt Lord have been making their name through prolific remix work for artists such as Macy Gray, Amy Winehouse, Zero 7 and Nitin Sawhney.
With these re-workings gathered on 2004's remix collection Got The Bug, Bugz In The Attic have been responsible for helping mould the whole broken beat sound championed by DJs like Giles Peterson and Phil Asher (whose fly-spattered mixing desk inadvertently helped named the band). Broken beat is one of dance music's less helpful sub-genres, a place where jazz, funk and soul collide with elements of dance music like electro and slow breakbeats. With such a broad foundation of influences this can result in wildly different sounds, 4hero sounding very little like Bugz In The Attic for instance (discounting the latter's remix of 4hero's Hold It Down of course).
It is clear from the outset what aspect of broken beat is Bugz In The Attic's focus as the funk immediately hits you and rarely dips throughout. The intro begins like a burst of electronic sunshine before a rousing, growled rant leads us into first track proper and recent single, Move Aside featuring Bembe Segue. The vocodered hip hop of I'm Gonna Letcha, another collaboration with Segue, comes across like a mellow Basement Jaxx but, aside from the odd comparison to other artists, the sound successfully evades pigeonholing. Other influences are merely hinted at: the combination of smooth soul, deep funk and electronic interjections throughout echoing Prince in his eighties heyday and Consequences sounding like a lost Chaka Khan hit.
Consequences is a rare, weaker track, sounding very much a product of a bygone era while the rest of the album takes its reference points and adds a modern edge to them. Take Don't Stop The Music, a cover of Yarbrough & Peoples' 1980, which sees the soul of the original left intact but adds a big electro-style bassline and stuttering beats.
The standout highlights are plentiful. The cinematic soul of Once Twice is an absolute soaraway classic with its goosebump-inducing orchestral strings and chorus of uplifting voices while Sounds Like… is a samba-style celebration, the only downside being that it ends far too soon. Worla Hurt and Booty La La provide an almighty ending to the album, the former featuring Don Ricardo's heartfelt pro-peace vocals laid over a string section which hints at an Unfinished Sympathy-style classic, while old eighties funk and hip hop dominate on the bass-heavy, party-starting closer.
Cool, soulful funk dominates and overall the album may be more polished and commercial than loyal fans expect, but Bugz In The Attic have by no means sold their creative souls. There is just a little less raw broken beat and a little more straight, accessible soul. Back In The Doghouse took over a year to complete, and the attention to detail and production are absolutely impeccable. Beneath the intense funk lay a host of hooks that will reel your subconscious in bit by bit until you find your mind regularly invaded by them. Producers Walters, Phountzi and Scott have done themselves proud but this is the result of a huge collective effort to produce an exceptional album that creeps up on you and will not let you go, seeming to grow with every listen.
- Ian Roullier