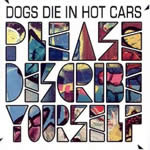 UK Release Date:
12 July 2004
Track Listing:
1. Godhopping
2. Lounger
3. I Love you 'Cause I Have to
4. Celebrity Sanctum
5. Somewhat off the Way
6. Apples and Oranges
7. Modern Woman
8. Paul Newman's Eyes
9. Pastimes and Lifestyles
10. Glimpse at the Good Life

•• Dogs Die In Hot Cars - Please Describe Yourself (V2)
•• Published: Original article written for Logo magazine (website). Now defunct.
They have one of the most memorable names going and their eighties influences are just as clear and unsubtle but Dogs Die In Hot Cars' debut is an optimistic and humorous mix of pop, light rock and huge hooks.
The spirit of Dexy's Midnight Runners permeates the overall sound of the album from hit single opener 'Godhopping' onwards, possibly due to ex-Dexy's co-producers, Clive Langer and Alan Winstanley, hand in proceedings. Another influence is betrayed on second track, 'Lounger', which has a heavy whiff of the Hothouse Flowers about it, before we are treated to recent single 'I Love You 'Cause I Have To', which surprisingly charted outside the Top 30.
'I Love You…' is by far the catchiest track on the album, Craig McIntosh spitting the words out of his throat like Elvis Costello indulging in some Vic Reeves club-style crooning. Uplifting musically if not lyrically, the chorus in particular sticks straight between your ears and begs for repeated listening.
Humour also plays a large part with the wistful, name-dropping tale of showbiz lady longing that is 'Celebrity Sanctum' and rousing, fast-paced foot-tapper 'Pastimes & Lifestyles' which contains the line: "Every morning I am woken by sheep, let the foot and mouth prevail if it means I can sleep". We are also treated to the nonsense of 'Apples & Oranges' which is pure Talking Heads with a surreal fruit salad of lyrics to match proving this album a completely doom free zone. You have never heard the words "I'm just a nothing that doesn't have a lot" spoken with such lightness and happy abandon as they are during the upbeat hoedown of 'Paul Newman's Eyes'.
McIntosh may not have the strongest voice, the vocals at times shiny but whiney, and they may have tried harder to mask the glaringly obvious influence of their idols but the strength of the songwriting and catch-rich melodies more than makes up for these drawbacks. An album of short, sharp pop shots which manage to be positive, happy and humourous while maintaining a cosy, emotional warmth. 'Please Describe Yourself' proves to be infectious and fun, even if it does sound like it could have been made in 1982.
- Ian Roullier