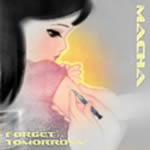 UK Release Date:
3 August 2004
Track Listing:
1. Forget Tomorrow
2. Inevitable (Do The)
3. D-D-D
4. While The People Sleep
5. Smash & Grab
6. Paper Tiger
7. Cmon Cmon Oblivion
8. Back In Baby's Arms
9. Now Disappearing
10. From The Merak Loung
11. Calming Passengers
12. Sub II
13. No Surprise Party


•• Macha - Forget Tomorrow (Jetset Records)
•• Published: SoundsXP, October 2004
•• Original article: http://www.soundsxp.com/1250.shtml
They may hail from Athens, in Georgia, Alabama, USA, but on the strength of 'Forget Tomorrow' Macha could just as easily come from the Far East, Germany or the dark recesses of Thatcher's Britain in the early eighties. Their influences are many and their approach to making music fearless and all-encompassing, taking in oriental instrumentation, the mechanical warmth of synthpop, the wide expansiveness of progressive rock and Krautrock's experimentalism. So does swallowing the world result in a messy, unlistenable rag-bag of sonic chaos? Not at all. In fact the results are often intriguing and at times subtly beautiful.
The title track kicks things off in a decidedly eighties fashion, with the coupling of heavy bass guitar, affected vocals and Gary Numan-style strings making for a sound that could easily have been produced twenty years ago. '(Do The) Inevitable' starts off in the same vein, faintly echoing Duran Duran while retaining the off-kilter cool of Talking Heads, and by the time 'd-d-d' is over it seems we can place Macha firmly in the eighties art-rock revivalists bracket.
But the band successfully dodge any lazy pigeon-holing, the upbeat dance jaunt of 'Smash & Grab' forming a hazy psychedelic cloud to confuse before 'Paper Tiger' drifts in with its driving zither and lazy bass to create an epic instrumental lift. At times they beg comparisons with other dance/rock straddlers like Primal Scream but moments of downtempo quirkiness and an abstract experimental edge set them apart on their own.
The oriental music box melody of 'Now Disappearing' is as eerie as it is relaxing, a child's voice echoes in foreign tongue to form an oddly beautiful lullaby, before the track mutates into the beat-heavy, sample-filled 'From The Merak Lounge', which forms a kind of instant remix of what went before. 'Calming Passengers' is another laid-back instrumental with the sun burning away at its heart and fuzzy feedback overlaid with what sounds like acoustic guitar strumming overhead but could be any one of the various much-used alternative instruments Macha have collected from their far-flung travels.
'Forget Tomorrow' may seem predictably retro at the outset but by the time the Far Eastern strings, plinking xylophone and buzzing guitar bass of 'Sub II' and the acid-drenched psych-rock of 'No Surprise Party' have brought the album to a close you are aware you have been on a uniquely varied drug-addled trip into the unknown. If you can imagine a multi-instrumented band sounding in parts like Gary Numan, Talking Heads, Primal Scream, Pink Floyd and Air while remaining understated enough for it not to be a complete mess then you are getting close to what Macha's musical melting pot sounds like.
Certainly weird but also, at times, bizarrely wonderful.
- Ian Roullier