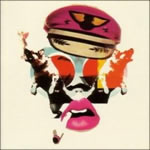 UK Release Date:
23 August 2004
Track Listing:
1. Spitfire
2. Girls Feat. The Ping Pong Bitches
3. Memphis Bells Feat. Princess Superstar
4. Get Up Get Off
5. Hot Ride Feat. Juliette Lewis
6. Wake Up Call Feat. Kool Keith
7. Action Radar
8. Medusa's Path
9. Phoenix
10. You'll Be Under My Wheels
11. The Way It Is
12. Shoot Down


•• The Prodigy - Always Outnumbered, Never Outgunned (XL Recordings)
•• Published: SoundsXP, September 2004
•• Original article: http://www.soundsxp.com/1112.shtml
They went from rave band to techno-metal troublemakers to Pistols-parodying dance punks before turning into cartoon caricatures and receiving a critical mauling for 'Baby's Got A Temper'. 'Fat Of The Land' saw the Prodigy find a commercially successful formula but there's only so much a band can do when confined by their own self-imposed limitations.
So it is down to the musical brain, or prodigy if you like, behind the band to get them back on track. So how does Liam Howlett fare? Very well actually. There is no place for old friends Maxim Reality and Keith Flint on this, the fourth Prodigy album since Charly hit number 3 in 1991, but it is still awash with guest vocalists including Juliet Lewis, Kool Keith and Liam Gallagher.
The slightly camp cover betrays the album's intermittent eighties references but conceals the hard dance-rock that lurks within, the huge slow-rocking beat, screeched vocals and wailing electronic interjections of opener 'Spitfire' creating an angrily raucous welcome and setting the overall tone for the next hour. The tough, electro-style body-popping buzz of current single, 'Girls', follows and we are treated to some huge, dirty analogue synth sounds, a Prodigy trademark that Howlett liberally scatters throughout the album.
It is then time for the storming 'Memphis Bells' which contains elements from every Prodigy phase so far as a big 'Jilted'-style waspy bassline and 'Fat Of The Land' attitude-injected vocal are laid over with almost 'Experience'-era off-key bells before an almighty hell-raising synthline gatecrashes the track. This is Liam Howlett back to his very best and forms just one of many headstrong highlights.
Other masterstrokes include 'Wake Up Call' with its squealing guitar, colossal bass, thumping beats and alarm bell samples, the rough, distorted guitars of 'Get Up, Get Off' with Twista's torrent of tortured lyrics and 'You'll Be Under My Wheels' as used on the BMW ad featuring a vocal sample reminiscent of old Maxim-led live favourite 'Rock & Roll'. Indeed, his old bandmates may have seemingly been ditched but many tracks have elements that lend themselves to either one or both of Keith and Maxim's vocal styles, just wait for the live shows as they may just make an appearance.
The main weakness of an otherwise direct but strong album lies within the cover versions; 'Hotride' with its go-go beats and strangled punky vocals is a flimsy, throwaway version of 'Up Up and Away', Nirvana's cover of 'Love Buzz' was done with far more energy and panache than Howlett's version 'Phoenix' can muster, and 'The Way It Is' takes the inspired idea of lifting the zombie dance beat from Michael Jackson's Thriller but ends up being a poorly-executed, repetitive, eighties electro-plodder.
The closer, featuring Howlett's brother-in-law namesake Gallagher on vocals, is a track that, like a petulant child, shouts and demands attention without really having anything to say. It may please those craving 'Fat Of The Land 2', but Shoot Down is probably the weakest track on the album. Perhaps the Gallaghers could take some tips from Howlett to help their own band escape the embarrassing shackles of self-parody as, overall, 'Always Outnumbered, Never Outgunned' sees the Prodigy making a spectacular return to form, flicking an armour-plated middle finger to the critics in the process.
- Ian Roullier