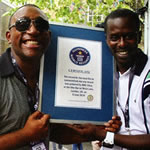 An array of DJing talent tries to break the world DJ relay record. But do the assembled jocks do it?
Richie Hawtin previews the 'Making Contakt' DVD and answers questions about how he's taken club interactivity to a new level.
Is it the Aphex Twin? Or a bloke called Brian? We talk to Rephlex owner Grant Wilson-Claridge to clear up the Tuss fuss.
New rave, neo rave or just a lot of old-fashioned media hype? The rebirth of rave explored.